Our Hospiscare Heroes are truly super; week after week, they support our local charity with their fundraising endeavours across Exeter, Mid and East Devon, ensuring we can be there for our patients and their families when they need us most. 
From all of us at Hospiscare, we are sending a huge thank you to all of our Hospiscare Heroes. Read on to find out how they have been flexing their superpowers this week.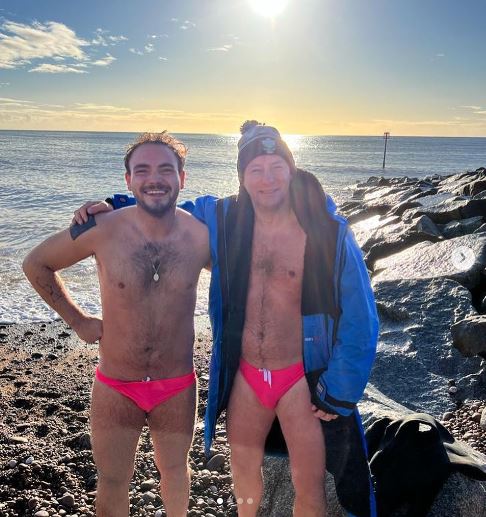 While many were enjoying the leftovers of their Christmas roasts, Richard Marker, Justin Lascelles and Karissa Marker from Combe Estate and Myles Reed from Combe Garden Centre were braving the waves for a brisk Boxing Day swim! They were joined by friends and family, including Karissa's daughter Ava, and so far have raised an incredible £4,552 for Hospiscare! These brave Hospiscare Heroes decided to take on the challenge as part of Combe Estate's participation in the Hospiscare 40 Club and we couldn't be more grateful.
Karissa said, "We did it! It was very cold, but we survived… and we had quite a big crowd come and support us which was great!"
To show your support for Combe Estate's Ffffreeezing for Fffforty challenge, click here.
We're sending a big thank you to the wonderful Topsham Friends of Hospiscare and Darts Farm for another successful summer of sunflowers, resulting in a donation of a phenomenal £4,792.50! This is a remarkable total and wouldn't have been possible without the team work and resilience of the volunteers and workers.
We are also sending our thanks to The Coffee Bank in Ottery St Mary who are partnering up with Sarah's Creations to host a Hospiscare Week from 16-21 January 2023. The Coffee Bank have generously renewed their 40 Club membership for 2023 and to mark this, Sarah's Creations will bake a beautiful cake with profits donated to our local hospice.
Finally, we would like to thank Thornes Farm Shop for organising a Christmas tree collection service in the Mid Devon area with Western Treeworks. Trees were collected on Sunday 8 January with all proceeds going to our local hospice.
We love hearing your stories about how you are fundraising for Hospiscare so please get in touch with us on Facebook or Twitter to share your photos and fundraising tales. 
If you would like to fundraise for us, please visit our fundraising page to find out more.