This week, we are celebrating a very special group of Hospiscare Heroes: our Summer Walkers of 2023.
Saturday 8 July saw the first Hospiscare Summer Walk take place at Darts Farm, with over 450 walkers enjoying a scenic seven-mile walk whilst donning their coolest sun hats and sunglasses to raise funds for our local hospice.
Upon arrival, Darts Farm kindly provided everyone with a free gelato, which went down a treat with our walkers – after all, it's not a Devon walk without a little ice cream!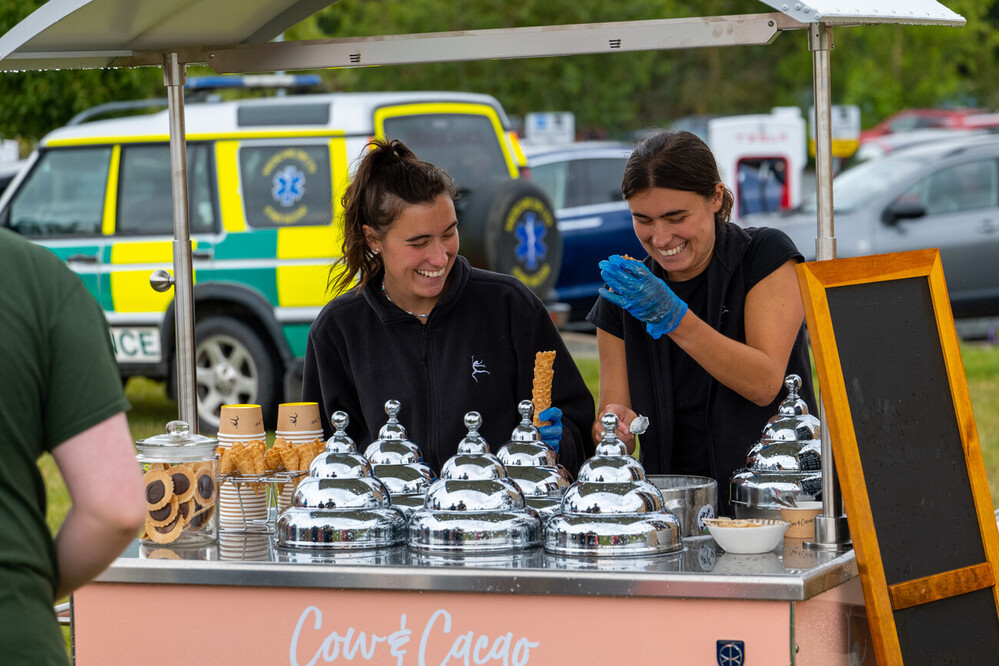 The gelato was enjoyed with entertainment from the talented La La Choirs, helping to get everyone into the Summer Walk spirit and the sun to shine.
We want to say a big thank you to Sam and the members of the La La Choir for performing and going the extra mile by participating in the walk too!
We asked participants to don their coolest summer threads and despite a slightly wet start to the day, they did not disappoint; we saw some fabulous summer outfits and were truly impressed by their efforts. The bright and colourful clothing choices even helped bring out the sun's rays just in time for the start of the walk, as the sun finally started to shine as our walkers gathered at Darts Farm!
We were delighted to be joined by Topsham Friends of Hospiscare at our Darts Farm base with a fantastic plant sale that they organised for the day, helping to raise money towards our fundraising total!
The Street Heat Samba Band kicked the walk off with a lively performance, creating an incredible atmosphere the begin the summer celebration…
After indulging in gelato, it was time to begin the Summer Walk with a stroll around the fields (which Darts Farm kindly let us use for free!) and a visit to the beautiful flower arch viewpoint provided by Anna Slade Floristry and Ann Blake – the perfect backdrop for a photo opportunity!
It was then time for our walkers to head off in the sunshine on the Exe Trail, towards Exton and the The Puffing Billy Inn, soaking up beautiful estuary views along the way with plenty more scenic photo opportunities to capture the day.
Upon arrival at The Puffing Billy Inn, walkers were rewarded with a refreshing glass of Pimm's – the perfect summer tipple to quench their thirst (or an equally delicious non-alcoholic alternative)!
Thank you to the team at The Puffing Billy for their hard work preparing the fruit for the Pimm's and serving our walkers with a smile on their face.
Our walkers were entertained by the extremely talented violinist, Paul Roberts Classic Sounds, as they sipped on their Pimm's – a big thank you to Paul!
The route then continued to Cliff Field in Lympstone, where our walkers stopped off for picnic… enjoying cucumber sandwiches alongside fresh strawberries and cream.
Thank you to Goosemor for providing their juicy strawberries (free of charge!) for the picnic and Pimm's, and Rodda's for providing their delicious clotted cream at a very heavily discounted rate.
We'd like to thank Lympstone PCC and the Lympstone Scout Group for allowing us to use Cliff Field to hold the Summer Walk picnic and the Scout Hut to prepare the picnics – it was a perfect location for our walkers to enjoy a well-earned break.
The Summer Walk event is open to all, and we were lucky enough to welcome groups of friends, families, colleagues, and plenty of furry friends accompanying their owners along the route – Summer Walk is truly a fun day out for everyone to enjoy!
After walking the seven-mile route, our incredible walkers (and four-legged friends!) gathered back at Darts Farm where they enjoyed an evening of delicious food, well-earned drinks and live music from Ellie Williams, The Stereo Social and Shoreside. The perfect way to end the day!
As Hospiscare's very own Ellie Williams took to the stage, we were blessed with a truly beautiful yet unexpected moment, as she was joined by a young girl who signed the lyrics for the audience.
A big thank you to Chris Wilson for providing his expertise and all the AV equipment on day, free of charge, and to Andrew Samuel, for volunteering his time as our tech/sound engineer – both helping to give our walkers the send-off and finish line celebrations they deserved!
We loved welcoming everyone to our first Summer Walk and hearing their reasons for participating and why they value Hospiscare as a local charity. With many walking in memory of someone special, we provided an area for reflection, with beautiful memory flowers dedicated by our walkers to their loved ones. It was emotional at times, but a great opportunity for everyone to share their stories in a supportive environment.
Thanks to the fantastic fundraising efforts, our Summer Walk heroes have raised over £35,500 and counting, which is an incredible amount. We are so grateful to each and every one of you for raising money for our local charity – it's thanks to people like you that we can continue to provide our specialist end-of-life are within the local community.
Of course, all of this wouldn't be possible without the incredible support of our fantastic Devon community and local businesses, who all pulled together to help make the Summer Walk happen… including our event sponsor Jurassic Fibre and event partner Darts Farm for making The Summer Walk possible.
We also want to say a special thank you to the 80 hardworking volunteers who gave their time on the day – from marshalling, cheering on our walkers, preparing picnics, taking photos and everything in between… We simply couldn't do it without you. We are so grateful for your time, effort and support!
We also want to send our thanks to:
Kev Chown for working closely with our events team on the traffic management plans – ensuring our walkers could find their way with ease and safely enjoy their day.
Stage Engage for heavily reducing the cost of their trailer and making the Hospiscare Summer Walk as good as it could be.
Sherwoods for their continued event support, with Kev and Alex working with the sound engineers to get the event set up safely, and to Kate, her friends and family for taking down all the event signage when the walk had finished.
To all of our amazing Summer Walkers, volunteers, event sponsors and partners, the local community and everyone who made a donation – we want to say thank you for your support in making our first Summer Walk a huge success and a fab day out. We can't wait to welcome you all again next year!
To view the full album of Summer Walk photos, please click here.
*All photography by Oli Baitup, Jill Pendleton and Tanya Rodgers.