Not all heroes wear capes… This week, we are celebrating a very special group of Hospiscare Heroes: our Men's Walkers of 2022.
From all of the people who donned their boots to take part in Men's Walk to all of the amazing people behind them, sponsoring, donating and cheering; from the Men's Walk's official sponsor to the businesses who supplied the iconic pints and pasties; from all of the amazing volunteers to the businesses who donated raffle prizes and goodies, we are sending you all a huge Hospiscare thank you.
On Saturday 12 March, the sun shone as over 1,100 people tugged on walking boots and trainers to take part in Men's Walk 2022.
This year's event was a true milestone for our local charity as it is the first event where we have been able to physically come together since the outbreak of the pandemic in 2020. To say our Men's Walkers and Hospiscare staff and volunteers were overjoyed to come together after all this time is an understatement.
Last year, our amazing supporters walked routes in their own locality to take part in Men's Walk – Your Way. This year, we were ecstatic to announce the return of our traditional, all together event at Double Locks, Exeter, as well as offering the Your Way option.
Over 900 people came together in Exeter to walk the traditional route with over 200 people taking part in the Your Way option.
Together, our Men's Walk heroes raised over £92,000 for Hospiscare, ensuring we can continue to deliver our specialist end-of-life care across Exeter, Mid and East Devon.
We would like to shout out a massive thank you to our Men's Walkers and to every person who supported them, whether by cheering them on or donating to their Men's Walk sponsorship. We could not have asked for a better Men's Walk in our 40th Anniversary year.
We would also like to thank all of our four-legged Men's Walkers for putting their best paws forward and loyally accompanying their owners, both on the traditional and Your Way routes. We love that Men's Walk is open to everyone, and that our t-shirts truly can be worn by all!
We are also sending a special thank you to George (pictured left). George shared his amazing story with us to help raise awareness of Men's Walk and the vital work of our hospice charity. Despite his cancer diagnosis, George was determined to take part in Men's Walk this year with his dog Ruaraidh and not only did he complete Your Way with his wife Veronica, but he was also able to walk with Ruaraidh and his son, Matthew, on 12 March.
George's determination to support Hospiscare is truly phenomenal and so is his fundraising total of over £3,600! Thank you George.
Our next thank you is another huge one and it goes to Men's Walk sponsor, Wilkinson Grant, one of the South West's leading independent Property Agents and Acquisition Specialists.
Wilkinson Grant are long-term supporters of our Men's Walk and were truly good sports this year, taking part in our pasty-eating competition in January as well as volunteering at Men's Walk and taking part in the walk itself (pictured above). Without their kind sponsorship, Men's Walk simply could not take place.
We are incredibly grateful to all of our fantastic volunteers and marshals – Men's Walk would not have been possible without you all. They enjoyed sunny spells but also faced the cold, wind and rain and did it all with smiles on their faces. Thank you all for being truly incredible.
It wouldn't be Men's Walk without a pint and a pasty so we are sending our most grateful thanks to Exeter Brewery for providing and assembling the bar at Double Locks and serving over 1,000 pints to our thirsty Men's Walkers.
The team at Exeter Brewery truly went above and beyond this year by creating bespoke Hospiscare 40th Anniversary bottles for all of our Your Way participants. We would also like to thank Exeter Brewery's owner and MD, Alan Collyer, again for being such a fantastic sport and taking part in our pasty-eating competition earlier in the year to launch Men's Walk.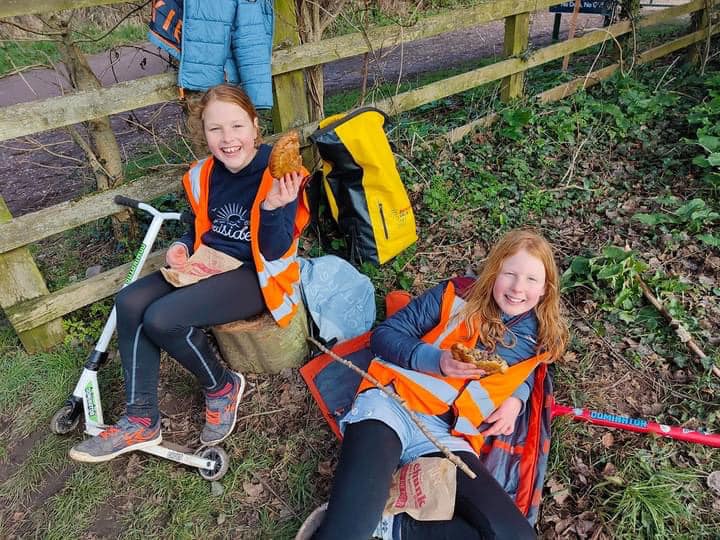 Thank you to Chunk of Devon for providing the perfect partner to the pints with their fresh Devon pasties. Chunk kindly provided their pasties to both the Double Locks event and Your Way options, as well as supplying all of the pasties for the pasty eat-a-thon in January. The team at Chunk were also on-hand to deliver Men's Walk kits to Your Way participants living outside of Devon and worked closely with our team to ensure all allergies and dietary requirements were catered for.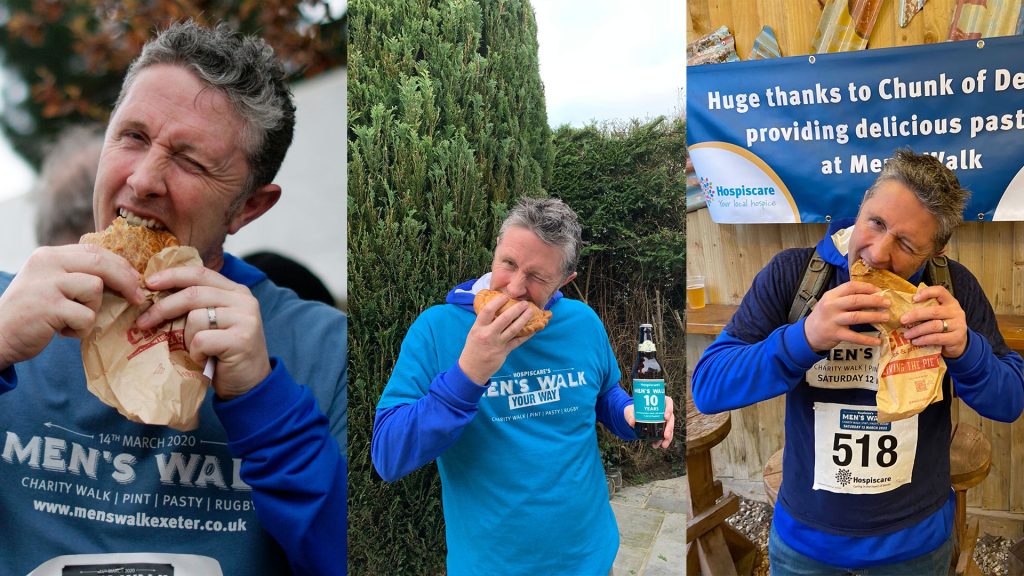 We couldn't mention pasties without taking a moment to recognise Steve. Back in 2020, we snapped Steve in an iconic pasty-devouring shot (far left) and not only has Steve taken part in Men's Walk every year since, he has also re-created this cracking shot for us! Thank you Steve – you really epitomise the joy of being rewarded with a pasty after completing Men's Walk.
We are also sending our thanks to Double Locks for providing their lovely pub and grounds as our Men's Walk venue and for supplying heating free of charge.
Thank you to Amazon logistics delivery station in Exeter for delivering Men's Walk – Your Way kits to over 200 people in the Devon area. The team also supported on the day of the event by handing out cupcakes and drinks to our walkers along the route.
Thank you to Broadclyst & Pinhoe Friends of Hospiscare – and in particular Wendy, Di, Amanda and Irene (pictured above) – for collecting raffle prizes and running the raffle at Double Locks on 12 March. The raffle raised over £800 and put smiles on lots of faces!
We would also like to thank all of the incredible businesses and individuals who donated prizes to the Men's Walk raffle: Zebel, Exeter Brewery, Exeter City Football Club, Total Plumbing Supplies LTD, Cornwall Glass, GX Accountancy and Bookkeeping Services, Bradfords Building Supplies, Greendale Farm Shop, The Rusty Pig, Waitrose & Partners, Bernaville Nurseries, On The Waterfront, Alan Rowe, Paula Rowe, Jane Newman and Irene Neale.
Thank you to WowNow Hire for providing lighting free of charge and for making an additional donation.
Finally, thank you to Sherwoods for galvanising supplier support, putting up lighting, advising and generally supporting Men's Walk.
In the final weeks of our emergency Save Our Services Appeal, the support and awareness raised from Men's Walk is more important than ever and we would like to say a final thank you to everyone involved for helping to save our services for the years to come.
To view the full album of Men's Walk photos, please click here to visit our Facebook photo album.