Our Hospiscare Heroes are truly super; week after week, they support our local charity with their fundraising endeavours across Exeter, Mid and East Devon and help to save our services for the future. Every pound raised can help keep our vital care service running for local people in need.
From all of us at Hospiscare, we are sending a huge thank you to all of our Hospiscare Heroes. Read on to find out how they have been flexing their super powers this week.
We are sending a huge thank you to Heron Farm who hosted the annual Buckerell & Weston wassail on 14 January. It was a fantastic evening of singing, dancing and cider-ing, all accompanied by tasty food. Through ticket sales and donations on the night, this fantastic event raised £272.10!
Jack Pickering, General Manager at Heron Farm, says: "We are thrilled to have raised this money for Hospiscare through tickets sales and donations and can't wait to do it again next year. Thank you to all involved."
Thank you also to Thornes Farm Shop, aka Team Thornes, for taking on the London Winter Walk on 30 January to raise funds for our local charity. The team walked a whopping 26 miles along the River Thames route and have raised over £2,500 so far! If you would like to donate to Team Thornes, click here.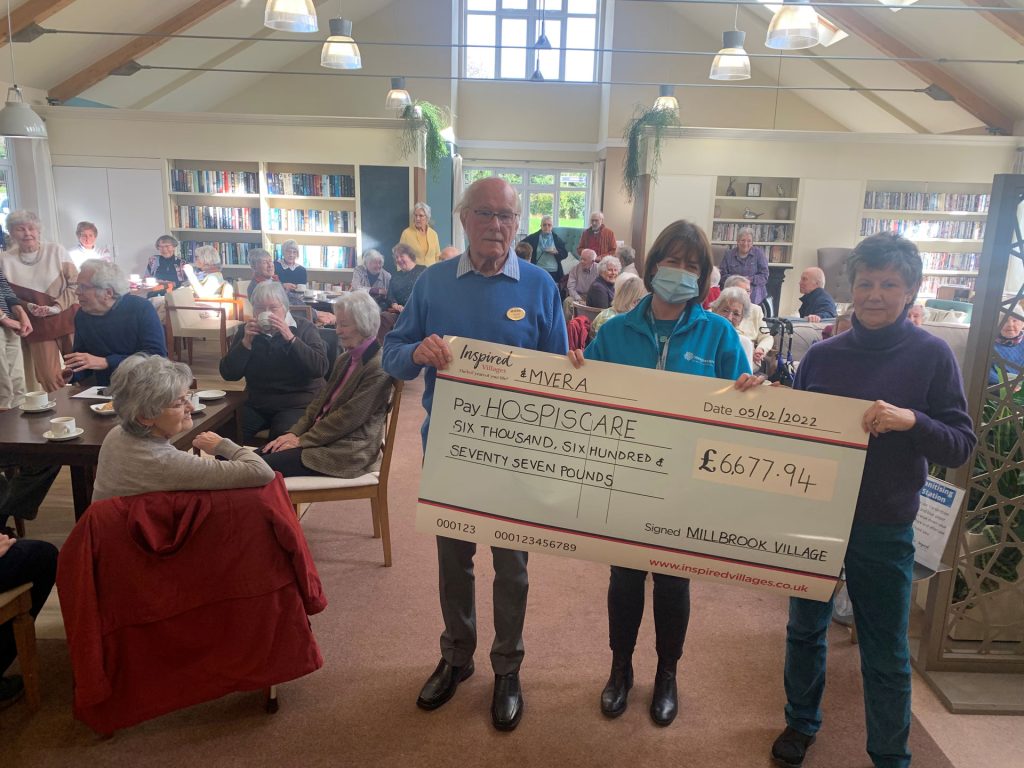 Thank you to the residents of Millbrook Retirement Village in Exeter and to Inspired Villages, who manage the complex, for choosing Hospiscare as their charity of the year for 2021. The residents have taken on an amazing range of fundraising for Hospiscare, including a skydive, a volunteer driving service to the hospital and coffee mornings and social events throughout the year. All of the money raised by the residents was generously matched by Inspired Villages, resulting in an amazing £6,677.94 donation to our charity.
One resident, George Pert, continues to support Hospiscare and is taking on this year's Men's Walk despite being diagnosed with cancer last year. To read George's inspiring story, click here.
We are also sending our thanks to Victoria Boxhall-Hunt who is raising money for our emergency SOS appeal by making decorations. Victoria is fundraising in memory of her grandmother, Dorothy Morrison, who was cared for by Hospiscare in October. So far, Victoria has raised over £1,000! If you would like to purchase a handmade decoration and support Victoria's fundraising, please click here or visit her JustGiving page.
Finally, we would like to thank Devon Community Foundation for their recent donation of £5,000 from their Devonian Grant Scheme towards our syringe driver project. This money will make a real difference to our patients.
We love hearing your stories about how your are fundraising for Hospiscare so please get in touch with us on Facebook or Twitter to share your photos and fundraising tales. 
If you would like to fundraise for us, please visit our fundraising page to find out more.