Our Hospiscare Heroes are truly super; week after week, they support our charity with their fundraising endeavours across Exeter, Mid and East Devon. From all of us at Hospiscare, we are sending a huge thank you to all of our Hospiscare Heroes. Read on to find out how they have been flexing their super powers this week.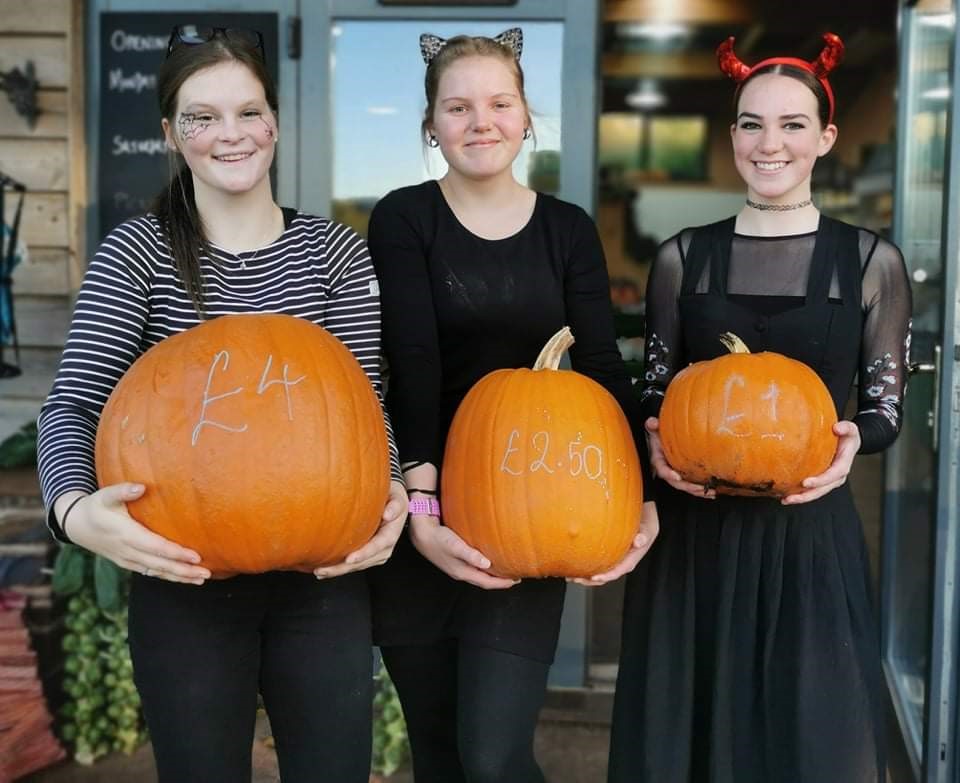 We are sending a big thank you to Thornes Farm Shop in Crediton for holding a Pumpkin Festival and Charity Scarecrow Trail last weekend. Team Thornes raised a fantastic £95.56 for our local charity.
There are so many people to thank for making the first Mail Trail in Exmouth such a huge success. Post boxes were decorated with knitted and crocheted toppers with a 'Beside The Sea' theme throughout the month of October and maps were available in various outlets. It certainly brought smiles to the community and was fun for all of the family as they tracked down each of the post boxes.
Firstly, thank you to our wonderful supporter, Claire Suttie. Claire came up with the idea of The Mail Trail and did everything to get the ball rolling, as well as sponsoring a post box, organising the website, keeping everybody updated on social media and promoting The Mail Trail and Hospiscare in various areas, including local radio and even TV via BBC Spotlight!
The Mail Trail wouldn't have been possible without the wonderful talents of local artist, Gary Cook, who designed and created the lovely Mail Trail map. Thank you also to the staff and businesses who sold the maps.
Thank you to the Exmouth's Mayor and Town Crier who helped launch the Mail Trail on 1 October.
We are also sending a huge thank you to all of the talented crafters who spent their time and efforts producing the wonderful scenes – without them there would have been no Mail Trail. Thank you Marlies Cawes, Ginny Graves, Terri-Ann Davis, Tanya Rodgers, Emily Taylor, Catrina Marsh, Natalie Morrison, Amanda Strowger, Lynn Booth, Helena Stubbs, Rosie Gedye, Ally, Dawn, Jade Angell, Sue Brooks, Sarah Trickett, Deb Lee and Shelley Mathews.
Thank you to the wonderful local business that stepped up to support The Mail Trail by sponsoring a post box. Thank you The Parts Guys, Home Instead Budleigh, Atlas Translations, The Linen Box, Edge Watersports, Ladram Bay, Exmouth Town Football Club, Living & Lifestyle Mobility, Thompson Jenner LLP, InConf, Tea Pots Café, GM Windows, Moore's Pies and Pasties, Tri-Hards, Tesco, Avocet Wealth Partnership, Shoobridges Funeral Service, Ocean, EweMove, World of Country Life, Stocks & Co, The Point Bar & Grill, Carpet King, Palmers Garage Ltd, The Beach and Beachcomber Lodge.
Finally, a huge thank you to the amazing people of Exmouth and to the visitors who bought maps, donated online or just popped some money in the collection tins. Thanks to their amazing support, The Mail Trail has raised over £3,500 to date!
Thank you to Lorraine (Lozz) Addicott who held a Coffee Morning for Hospiscare in September and raised a phenomenal £1,556.53! In addition to our grateful thanks, Lorraine also received a fantastic personal thank you (pictured above) from a young member of her community.
Today we are sending huge thank you to Wilkinson Grant for all the many and varied ways in which they support Hospiscare. From volunteering to event sponsorship, and of course brilliant fundraising, your support makes a big difference to the care of local families.  This week, we were delighted to receive £6000 from team member Wendy who took part in the London Marathon. Congratulations and thank you!
Thank you to our amazing supporter Jodie who took the plunge for Hospiscare with a skydive on 16 October in memory of her grandmother. Jodie self-funded the cost of the skydive itself and was therefore able to raise a fantastic total of £289.03 for Hospiscare.
Thank you to another of our amazing supporters, George Hill. George was a huge support to us during lockdown and organised the amazing Art Auction for Hospiscare to raise funds for us at such a difficult time. George has continued to fundraise for us and was due to Wing Walk for Hospiscare in 2020. Unfortunately, this didn't go ahead due to COVID so instead, George decided to skydive for us this year and raised an amazing £787.
Thank you also to Margaret Orasnjak who was originally due to Wing Walk for our charity but turned this to a skydive. Maggi used to work for Hospiscare and was keen to raise funds and she succeeded with a truly amazing fundraising total of £2,000!
We are sending a huge thank you to Sue Ward, who strapped herself to the wings of a vintage bi-plane and took to the skies to raise funds for our local hospice charity, raising £600!
Thank you to Kevin Scrivens who also completed a Wing Walk for Hospiscare on 18 September and raised a fantastic £850.
Thank you to Mole Avon in Okehampton for raising money for Hospiscare at their re-launch event last week. By holding a raffle and collecting donations, they raised £309.67! We are also sending our thanks to the Okehampton Friends of Hospiscare for supporting Mole Avon with their fundraising.
Thank you also to Carolyn Smy from Mole Avon, Okehampton, who took part in Tour de Devon 2021. Carolyn rode an amazing 400 miles throughout September and raised a fantastic £843.34 for our local charity.
Thank you to Jenny Lane and all of the amazing staff at Alan Rowe Barbering in Honiton for organising a raffle in aid of Hospiscare to celebrate the shop's 29 years in business. Thank you to everyone who supported this fabulous fundraiser by donating prizes or buying tickets – the event raised £500!
We are sending our thanks to Mathew, Bev and all of the team at the Fort Café in Sidmouth for supporting Hospiscare and raising an impressive £610.
We are sending our thanks to Christine Thompson, an amazing supporter from Honiton, who continues to make beautiful crafts to raise money for our local charity.
Thank you to Nicci at the Eco Baby Box in Ottery Saint Mary for kindly donating this beautiful soft toy giraffe. The giraffe will be part of the late night shopping Christmas stall in Ottery on 26 November where children will have the chance to give him a name – the child who guesses the correct name will get to keep the giraffe.
Thank you to JJ Tree Services, Mat Box and Melvin for making these gorgeous log reindeers to sell for Hospiscare.
Finally, thank you to Honiton LED Leisure Centre for donating family swim passes as prizes for the Honiton Halloween Fundraiser.
We love hearing your stories about how your are fundraising for Hospiscare so please get in touch with us on Facebook or Twitter to share your photos and fundraising tales.