Volunteers help Hospiscare in so many different ways. You can help by sorting donations, serving customers or even researching valuable items to sell online. Whatever your skills and interests, we have the perfect role for you!
Here are just a few of the volunteering roles currently available at the Hospiscare Warehouse in Exeter.
eBay photographer, researcher and dispatcher
The Hospiscare eBay shop stocks a wide range of vintage treasures, collectables and unusual items. Our volunteers help to keep the eBay shop regularly updated by researching items to find out how much they are worth, photographing the objects in an attractive way, listing them for sale on eBay and stock taking to keep records updated.
Our volunteers also help to package sold items and prepare them for delivery to make sure they arrive safely with their new owners.
Amazon Lister
Hospiscare currently have over 15,000 books, DVDs, games and vinyl listed in the Hospiscare Amazon shop. Volunteers help keep the shop updated by scanning items, listing them for sale on Amazon, packaging and dispatching sold items and keeping stock levels up to date.
PAT tester
Our team of electrical volunteers help to function check and PAT test all electrical items to make sure they are in working order and safe to sell.
If you have experience working with electrical items and want to use your know-how to help Hospiscare raise money or if you'd like to learn a new skill we'd love you to join us. We'll provide you with all the training you'll need to get started.
Sorting Volunteer
The Hospiscare Warehouse in Exeter receives a large number of kind donations from our generous supporters. We are grateful for these donations but organising them takes time.
Our treasure hunting, sorting volunteers help to sort through the donations and process the stock that can be sold. We receive an eclectic assortment of donations every day so you never know what treasures you might find!
eBay fashionista
If you have a passion for fashion this could be the role for you! The team of online volunteers help with researching, photographing and listing fashion items on the Hospiscare eBay shop. We sell everything from designer brands to vintage one-of-a-kind items, hats to hoodies, jumpers to jeans, tops to trousers and much more. The variety is endless – no two days are the same!
Jewellery Sorter
Jewellery donations can take a bit longer to sort. Necklaces and bracelets can become tangled, earrings can get mixed up and sometimes valuable items can look like costume jewellery.
Our volunteers help by sorting the jewellery donations, de-tangling knotted necklaces, sending valuable items to the Hospiscare eBay team and setting broken bits aside to be repaired and upcycled by the Hospiscare Magpies. If you have an eye for sparkly things this could be the perfect role for you.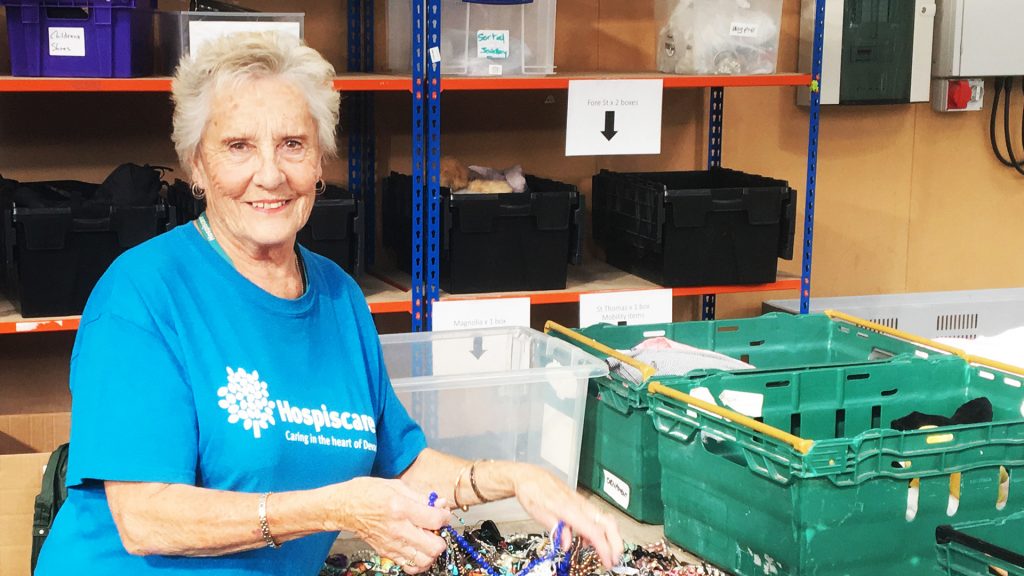 New Goods Stock Distributer
Hospiscare shops stock a selection of new items that have been bought to compliment the donated stock available in store. Our New Goods Volunteers help to send these items from the warehouse, where they are stored, to the shops that need additional stock.
Admin Volunteer
Admin volunteers use their organisation skills to help support our office teams by answering telephone calls, booking furniture deliveries and collections, filing paperwork, drafting and printing documents, designing posters, and other office-based tasks.
Volunteering in an admin role is a great way to put your existing skills to good use or gain some valuable work experience to add to your CV.
Furniture Mover
The ever-changing selection of furniture in the warehouse needs to be moved around as new furniture comes in from the Hospiscare House Clearance team and sold furniture is sent out for delivery.
Our volunteers help by moving the sold furniture off the sales floor to make room for new stock and bringing new items into the shop area to be put on sale.
Mobility Aid Rejuvenator
Donated mobility items are sent to the mobility department in the Hospiscare Cowick Street shop. Before mobility aids can be sold they need to be safety checked and tested. Volunteers help by checking the items are safe, testing they work properly and making repairs on items that have been damaged.
Donation Station Crew Member
The donation station in the warehouse receives a large number of generous donations from our supporters every day. Volunteers support our staff by helping customers unload donations, signing up Gift Aid donors and safely storing donations until they are ready to be sorted.
Volunteer with us!
Interested in volunteering in the Hospiscare Exeter Warehouse? We'd love you to join our team! The time you volunteer can help Hospiscare raise vital funds to care for our patients and help you learn new skills and make new friends.