This week, we are celebrating a very special group of Hospiscare Heroes: our Himalayan Trekkers of 2022.
On November 12 2022, 26 incredible supporters took on the challenge of a lifetime in aid of of their local hospice charity.
These epic Hospiscare Heroes not only had to prepare themselves for the challenging trek ahead, they also spent the months leading up to the trek undertaking all kinds of inventive fundraising activities in order to support local people and their families living with a terminal illness.
We are so grateful to our Himalayan trekkers, who truly went above and beyond for Hospiscare and reached new heights, not only with their ascents in the Himalayas, but with their fundraising in reaching a phenomenal £94,956.47!
Below we share a few highlights of their incredible journey.
The trip started with a group coach to Heathrow airport, where they flew to Kathmandu, Nepal, via Dubai. When the trekkers landed, they were met by local guides, Dayula and Gelu.
After reaching the hotel in Kathmandu and getting a well-earned night's rest, the trekkers kick-started their adventure by supporting two local causes, Hospice Nepal and National Hospital and Cancer Research Centre Care Nepal. This aspect of the trek was hugely important to all of our fundraisers, and they went above and beyond to give both organisations a cosmetic uplift, whilst demonstrating unity with staff, patients and their family members.
Above, you can see our fundraisers being briefed by Hospice Nepal and National Hospital and Cancer Research Centre Care Nepal. It was a poignant start to a very meaningful part of the trek.
After two days of working hard and getting to know each other, one of the founders of Hospice Nepal presented the group with a certificate and traditional scarves to thank them for everything they had done. The founders also went on to share their plans for a new hospice and the fundraising strategies they plan to undertake to make it happen.
The next morning, our trekkers woke up at the crack of dawn to catch their transfer and descended upon Pokhara, a beautiful lake side city in Nepal. After a night's rest in Pokhara, the trek finally began…
Day one of the trek saw our fundraisers trek from Nayapul and Ulleri, following the banks of the Bhurungdi Khola River as far as Tikhedhunga before a steep uphill walk to Ulleri where they stayed the night.
On day two, our trekkers embarked on a full day of ascent, with a six-hour walk uphill and an overnight stay in Ghorepani, 2,800m above sea level.
Day three was the day the group had been looking forward to the most, with the Poon Hill sunrise top of the agenda, and our trekkers were rewarded with perfect weather.
Here are our amazing Hospiscare trekkers at the top of Poon Hill, 3,210m above sea level.
After a day of trekking through magnificent rhododendron forests, the group reached their tea house in Tadapani where they were treated to the sunset across Annapurna.
Day four saw our trekkers rise before the sun to catch a glimpse of another beautiful sunrise in Tadapani before setting off on another day of trekking.
To the great relief of the group, the rest of Day four was a day of descent, where our trekkers explored mossy forests and deep gorges, before landing upon Ghandruk, where many of the inhabitants are Ghurkhas.
Day five marked the final day of trekking as the group descended to Birethanti, where they were picked up and brought back to Pokhara for an evening of celebration.
Many of those that took part in our Himalayan Trek did so in memory of a loved one.
I think it's fair to say that our fundraisers were proud to represent Hospiscare.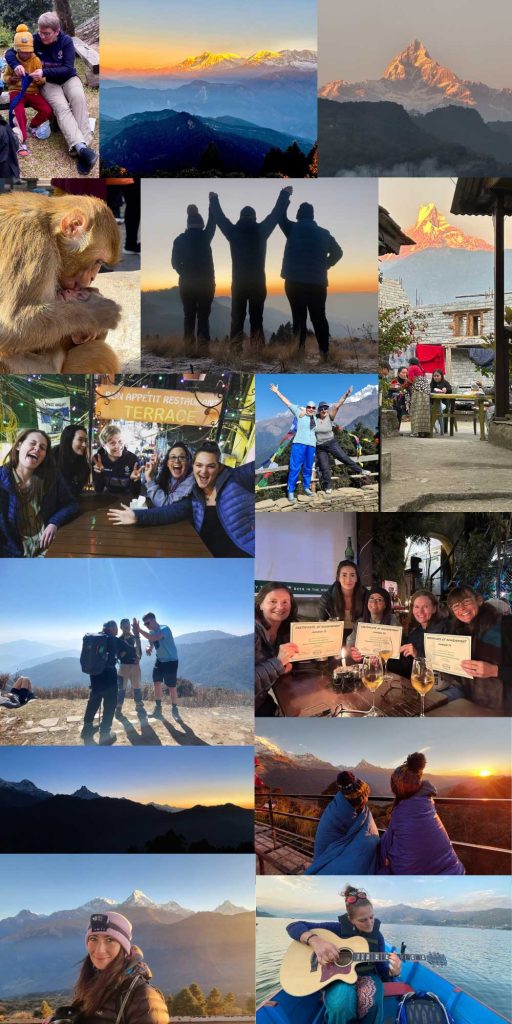 We are incredibly grateful to every one of our amazing trekkers. Their incredible fundraising efforts raised a whopping £94,956.47 for Hospiscare! Thank you also to everyone who supported our trekkers, whether through making a donation to their challenge to cheering them on from home.
Here at Hospiscare, we're already busy planning our next trekking adventure for 2024! If you'd like to be the first to hear all of the details, please email events@hospiscare.co.uk to register your interest.