Our Hospiscare Heroes are truly super; week after week, they support our local charity with their fundraising endeavours across Exeter, Mid and East Devon and help to save our services for the future.
From all of us at Hospiscare, we are sending a huge thank you to all of our Hospiscare Heroes. Read on to find out how they have been flexing their super powers this week.
We are sending a huge thank you to the thirteen incredible people who 'took the leap' for Hospiscare and completed a skydive on 27 July. Thank you Alfie Collinson, Jodie Magrath and William Roper from Avocet Wealth Partnership, members of our 40 Club. Thank you also to Emma Smith and Rebecca Mora Zamarripa from Coastal Recyling, also 40 Club members. Thank you to Natalie Mercieca, David Sims and Derren Sims from EDP Environmental, fellow 40 Club members.
Thank you to fellow 40 Clubbers and Sounds Choir members Ellie Williams, Natalie Melmoth-Ofield, Emily Billing and Catherine Spencer and finally to Lauren Gale.
Ellie, pictured above, took to the skies in memory of her dad, Mike. Despite being terrified of heights, Ellie was determined to take the plunge to honour Mike. Watch Ellie's story here.
Thank you to Andy and Dynamix Rock/Pop Choir who held a concert in memory of Andy's wife, Barbara, at St Michael's church in Heavitree. Their incredible concert raised £1,500 for Hospiscare!
Thank you to Exmouth in Bloom for supporting Hospiscare and helping us celebrate our 40th birthday. We are so grateful to all of the volunteers who created this beautiful display.
We are sending a huge thank you to Rich, Aaron and Chuck who are currently cycling from England to Spain to raise money for Hospiscare and three other hospice charities. To donate to their amazing challenge, click here.
Thank you to Honiton and District Darts League who recently organised a darts competition and raffle, which raised £250 for Hospiscare! The fundraiser was organised in memory of Paul Kiddle.
We are also sending our thanks to Sarah, who is taking part in the NCS scheme and will complete a sponsored walk along Tiverton Canal today. Sarah is walking in memory of her mum, Lisa, who sadly died in our hospice in May. To donate to Sarah's challenge, please click here.
Thank you to the entire ensemble of Sounds Choir for their beautiful performance at Cotley Christmas Barn. This was the choir's first performance post-pandemic, and the first concert for many new members, and it was a complete success! A packed audience of 170 people filled the barn for two hours of music, followed by a tasty cream tea sponsored by Roddas with scones and cakes baked by the choir. Sounds Choir's amazing efforts resulted in a donation of £1,602 for Hospiscare!
Thank you to the 'Mostly Posties', led by Alex Myers, for raising a whopping £1,420 with their Men's Walk.
We are also sending our thanks to Whimple and District Gardening Club for their recent plant sale which raised £70 for Hospiscare.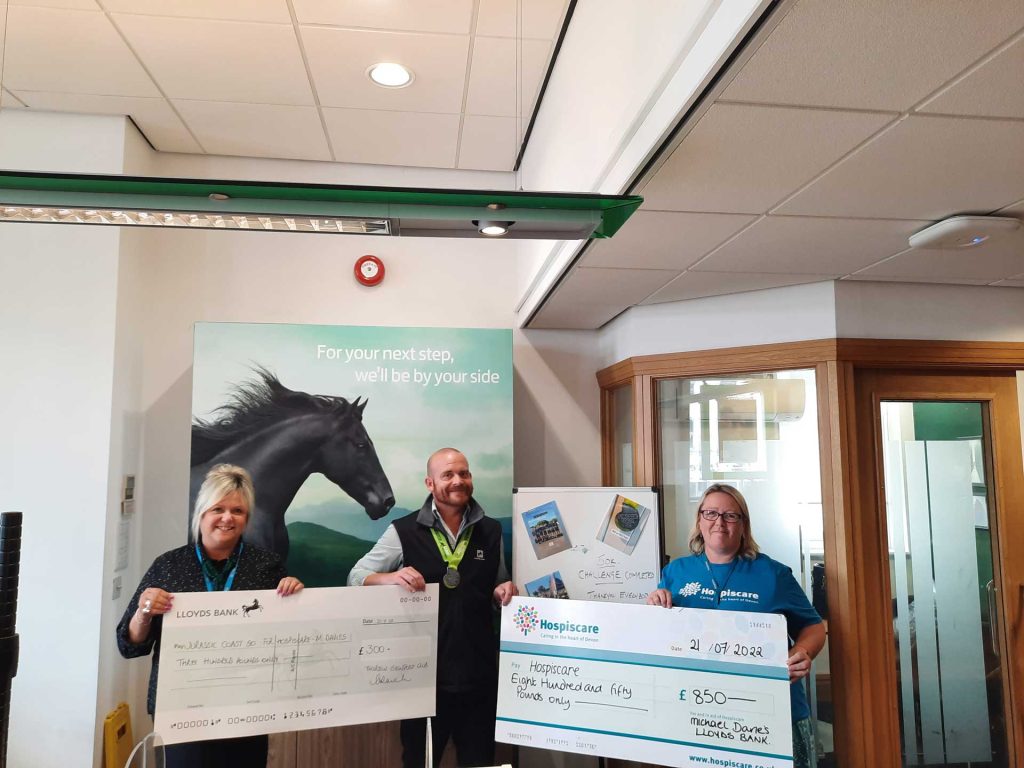 Thank you to chairperson Ally Harcombe and all of the members of Tiverton Signpost Club who kindly chose Hospiscare as their Charity of the Year, resulting in a donation of £300. Thank you also to Michael Davies who works at Lloyds Bank, Honiton, for enduring the Jurassic Coast 50k Challenge and raising £25o for Hospiscare.
Thank you to the members of Honiton's Masonic Fortescue Lodge 847 for donating £300 to our local charity.
Finally, thank you to Unifii who are taking on a Virtual Mission – walking around the world to raise money for our charity. This week, the team reached New Zealand! Unifii are raising £1,000 for Hospiscare as part of our 40 Club.
We love hearing your stories about how your are fundraising for Hospiscare so please get in touch with us on Facebook or Twitter to share your photos and fundraising tales. 
If you would like to fundraise for us, please visit our fundraising page to find out more.