Not all heroes wear capes… This week, we are celebrating a very special group of Hospiscare Heroes: our Twilight Walkers of 2022.
From all of the people who donned their trainers to take part in Twilight Walk to all of the amazing people behind them, sponsoring, donating and cheering; from Twilight Walk's official sponsor to the businesses who took part in 'think pink for Hospiscare' and donated the proceeds of their sales; from all of the amazing volunteers to the businesses who donated raffle prizes and goodies, we are sending you all a huge Hospiscare thank you.
On Saturday 9 July, the sun beamed down over Exmouth as over 500 Twilight Walkers set off from Manor Gardens, Twilight Walk's new home.
Our Twilighters completed routes of six or thirteen miles around the beautiful coastal town, and there was also the option to take place 'Your Way' by walking a route in the location of our particpants' choice.
This year's event was a true milestone for our local charity. After holding Twilight 'your way' for the past two years, we were able to come together in person to turn Exmouth pink in Hospiscare's 40th anniversary year. To say our Twilight Walkers and Hospiscare staff and volunteers were overjoyed to come together after all this time is an understatement.
For the last two years, our amazing supporters walked routes in their own locality to take part in Twilight Walk. This year, we were ecstatic to announce the return of our traditional, 'all together' event in Exmouth, as well as offering the Your Way option.
Together, our Twilight Walk heroes raised over £37,000 for Hospiscare, ensuring we can continue to deliver our specialist end-of-life care across Exeter, Mid and East Devon.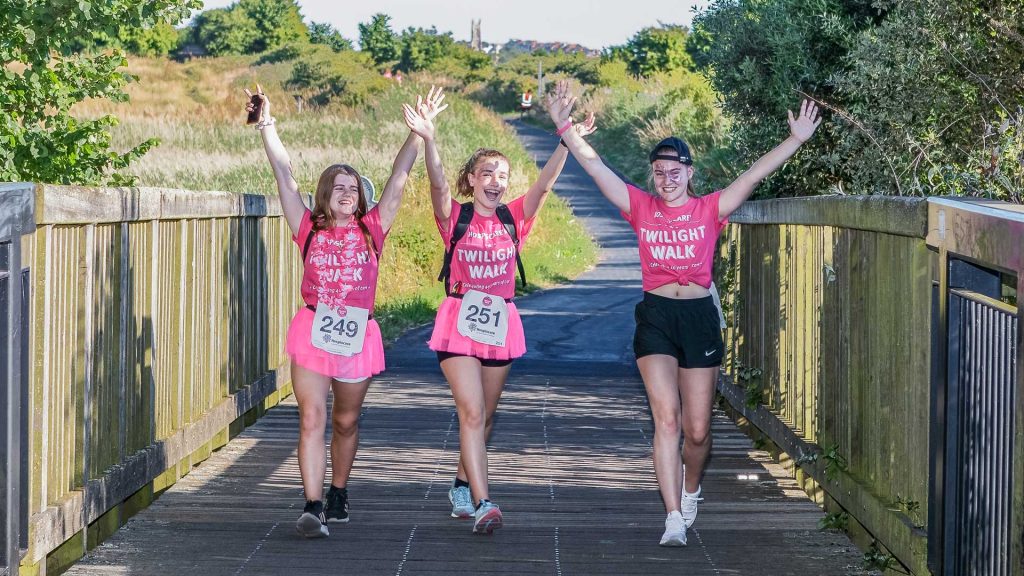 We would like to raise our hands in celebration and shout out a HUGE thank you to our Twilight Walkers and to every person who supported them, whether by cheering them on or donating to their Twilight Walk sponsorship. We could not have asked for a better Twilight Walk in our 40th Anniversary year.
We would also like to thank all of our four-legged Twilight Walkers for putting their best paws forward and loyally accompanying their owners, both on the traditional and Your Way routes. We love that Twilight Walk is open to everyone, and that pink truly is everyone's best colour!
We would also like to say a special thank you to all of our incredible young walkers for completing their routes to support local end-of-life care.
Our next thank you is another huge one and it goes to Twilight's sponsor, Jurassic Fibre, a leading local broadband company who are building an ultra-fast full-fibre broadband network across the region.
Jurassic Fibre are long-term supporters of our Twilight Walk and their community champions have been so committed to helping us raise awareness and funds for this year's event. Three incredible members of their team, Liz, Liz and Gemma, also took part in the 13 mile walk on the day to further boost their fundraising. Without Jurassic Fibre's kind sponsorship, Twilight Walk simply could not take place.
We are incredibly grateful to all of our fantastic volunteers and marshals – Twilight Walk would not have been possible without you all. It was an incredibly warm and sunny day and all of our volunteers coped magnificently in the heat with smiles on their faces. Thank you all for being truly incredible.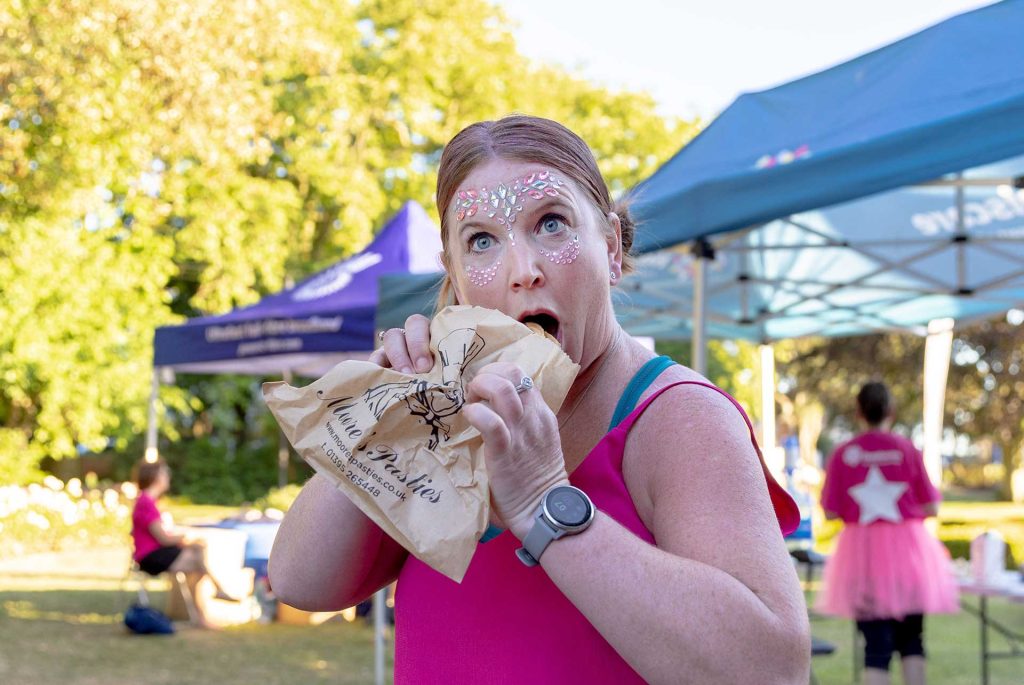 For the first time, our Twilighters were rewarded after their walks with a pasty or sausage roll, kindly provided by Moore's Pasties. As you can see, these were very much enjoyed by everyone who took part! Thank you so much to the team at Moore's for providing over 800 hot pasties and sausage rolls for our walkers free of charge. The leftover pasties were enjoyed by our nurses working the night shift on the hospice ward in Exeter.
Thanks to all of the vendors at Twilight Walk who kindly agreed to donate part of their proceeds to the event. Three cheers for Spoken for donating 15% of their takings, The Global Street Kitchen for donating 10%, The Fudge Fairy Exmouth for donating 10%, Ruby Fury for donating 25% on Hospiscare legging and 10% on her other products, as well as Bumble and Bee who donated a percentage of their takings.
Thank you to The Puffing Billy for setting up the turnaround point on the 13 mile route, providing raffle prizes and selling pink things to raise vital funds for Hospiscare. They have raised £179.05 so far.
This year we asked local people and businesses to 'Think Pink for Hospiscare' to raise awareness of the services Hospiscare provides free of charge in the community, and our upcoming flagship event, Twilight Walk. Many people went about their day proudly representing Hospiscare in pink, where as some local businesses took things one step further by promoting the event whilst raising vital funds for Hospiscare. We are celebrating their incredible pink-themed antics below.
Thank you also to LED Leisure, Hospiscare 40 Club members, who embraced 'Think Pink for Hospiscare' by asking their staff and customers to attend their centres dress in pink on 10 June. This collective effort was sure to turn heads and raised £303.77 on the day! The LED team also set up a stall in Manor Gardens on the event day to chat to our amazing Twilighters.
Thank you to Ruby Fury Activewear, another Hospiscare 40 Club, for taking 'Think Pink' in their stride by selling their highly sought after Hospiscare leggings, with 25% of the proceeds going towards Twilight Walk, totalling £379.05 to date. Maria, the founder of Ruby Fury, also took part in the event and raised additional sponsorship alongside her cousin Hannah. All in all, they've raised £594.05 for Hospiscare.
Thank you to The Point Bar & Grill, long standing Hospiscare supporters and eager 40 Club members, for helping to promote Twilight in the lead-up to the event. The Point were actively involved on social media, providing gift cards for sign up competitions and circulating our marketing materials. They also kindly sold a special pink cocktail for one week and raised £32.22 for their local hospice.
Thank you to Combe Estate for being such fantastic supporters of Twilight. In the week leading up to the event, Coombe Garden Centre and Farm Shop helped raise awareness of the walk by celebrating all things pink throughout the week. Their incredible efforts raised £420 for their local hospice as part of their 40 Club fundraising.
Thank you to Cornwall Glass, members of our Hospiscare 40 Club, for holding a 'Pinky Blinders' day to raise awareness and funds for our Twilight Walk.
Thanks to Josh, Chloe and the team at The Heavy Tree for being such incredible supporters of Hospiscare. The team decorated their café pink and liked it so much that they kept it all up for weeks! They also baked lots of delicious pink cakes and sold them to raise fund for Hospiscare, resulting in a donation of £85.
Thanks to everyone at The Heavitree in Exmouth for fully getting behind Think Pink for Hospiscare. The team wore pink tutus as they worked, served up a delicious pink cocktail and even donated their tips on the night of 10 June, raising £45 along the way.
Thanks to the team at the Exeter Jewson branch for providing generators, festoon lighting, transformers and cabling, free-of-charge and at short notice. The team at Jewson were very helpful and we hope to continue working with them.
Thank you to Ray and his team at The Globe Inn in Lympstone for helping to promote the event by displaying posters and handing out flyers, as well as selling their infamous 'Pink Fizz' and donating £1 to Hospiscare for every unit sold. They £40 raised in total.
Thank you to Sherwoods for setting up all of the electrical equipment and working closely with the events team during the planning of Twilight Walk. Alex, the representative from Sherwoods, even took part in the walk with his children!
Thank you to WowNow Hire for for providing generators, festoon lighting and transformers free of charge. Although not local to Devon, this fantastic company continues to support our fundraising efforts.
Thank you to MBSS Security for providing security free of charge on the day and for helping to pack down the event.
Daniel and his team at The York Inn approached Think Pink for Hospiscare with such enthusiasm, with one of their staff members also taking part in Twilight. They helped promote the event by displaying posters on their entrances and exits, and kindly donated 20p for every pink gin and tonic sold, resulting in a donation of £115.40.
Thank you also to On The Waterfront who, as part of their Charity of the Year fundraising, sold a special pink cocktail to help raise awareness and vital funds for Hospiscare's Twilight Walk. Their efforts raised £13.50 for Twilight Walk and their location on Exeter's Quayside helped us promote to hundreds of passers-by and their customers.
Thank you to Helen and her team at Sundowners for kindly donated £1 to Hospiscare for all "Chick'n" mayonnaise, Feta & Cranberry Paninis sold, resulting in a donation of £25.
Finally, thank you to Kids Hub Coffee Exe who kindly donated 50p for every milkshake they sold in the build up to Twilight Walk. Their efforts generated £10 and helped us promote our event to the parents taking their children to their café.
Thanks to Sadie and the team down at The Saddlers for raising £26.40 selling their special Twilight Sparkle cocktail, and for providing a raffle prize and helping to promote the event.
To view the full album of Twilight Walk photos, please click here to visit our Facebook photo album.